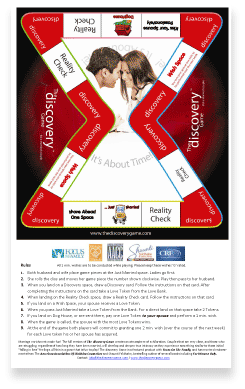 Thank you for your interest in
The discovery Game!
This is the group version of The discovery Game. Perfect for small and large gatherings. Easy to learn and to play so that couples spend their time focused on each other rather than trying to learn a game. There is no charge! We hope that you and those playing will find it a blessing!
Couples play one on one with each other, while sitting next to other couples, who are also playing. Partners will write love notes on each other's back with a finger, perform massages and serenade one another, while laughing at other couples involved in similar antics. As a couple plays, they will not only laugh together, but through the questions posed by the discovery cards, they will "warm" toward each other, making this the perfect icebreaker for a marriage focused event.
Once you fill out this form and click submit, you will be sent an email which will contain a full size PDF of the board game, the cards, and the instructions. The board will print out on a standard legal size (8.5″ x 14″) sheet of paper. You will need Adobe Reader,which is a free download, to open a PDF file.