The traditional anniversary gifts are cute. You have paper for the first year, cotton and leather for the second and third, and the necessarily expensive gifts kick in around the 15th year. (The entire list is at bottom.) But, the best anniversary gift— and the most unique— may not be the most expensive. What if you could give happiness? What if rather than steak knives, or stationary, you could give the couple a continued passion for one another? What if rather than dinnerware, you could help to ensure that the marriage would stand the test of time? What if you gave The discovery Game?
Compared to the other gifts mentioned, The discovery Game is very inexpensive, but the value of the game can be immeasurable.
The discovery game was designed to deepen and develop intimacy in marriage. It allows a couple to really connect. The game creates a fun, lighthearted environment that any couple will enjoy, regardless of how long they have been married. Most couples have nights, dates, and vacations that they can look back on— thinking: "Wow that was a great time!" The discovery Game will make that sort of an experience available, whenever, and however often the couple chooses to pull it out of the box.
So, as an anniversary gift, a gift for newlyweds, a wedding present, or for an established married couple, this game is a fantastic and unique way to show that you really care. For more information on the game see our "The Game" page.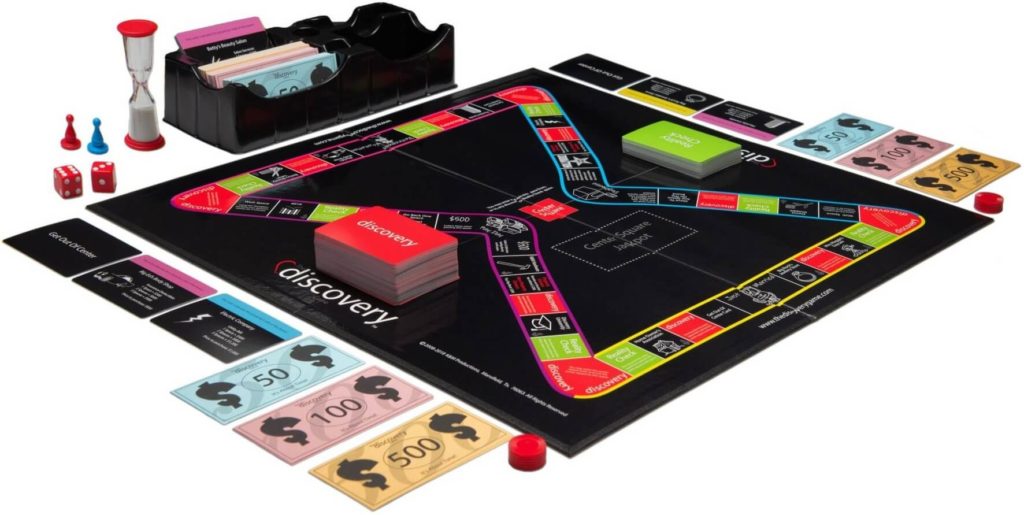 Traditional Anniversary Gifts
1ST YEAR: Paper
2ND YEAR: Cotton
3RD YEAR: Leather
4TH YEAR: Fruit & Flowers, or Linen & Silk
5TH YEAR: Wood
6TH YEAR: Iron / Candy
7TH YEAR: Wool/ Copper
9TH YEAR: Pottery
10TH YEAR: Tin/ Aluminum
11TH YEAR: Steel
12TH YEAR: Silk
13TH YEAR: Lace
14TH YEAR: Ivory
15TH YEAR: Crystal
20TH YEAR: China
25TH YEAR: Silver
30TH YEAR: Pearl
35TH YEAR: Coral
40TH YEAR: Ruby
45TH YEAR: Sapphire
50TH YEAR: Gold
55TH YEAR: Emerald
60TH YEAR: Diamond